About Us
About the Company
About the Company
"A Tradition in Michigan", Norton's Flowers & Gifts is not just another internet order gathering service. We are a full time, professional, retail florist, offering all occasion flowers and plants for same day delivery in Ypsilanti and the greater Ann Arbor area. Norton's was founded in 1892 in Ypsilanti, Michigan by Frank Norton and passed down from generation to generation of Norton family florists for over 100 years. We are the largest, oldest and most trusted florist in these communities, which are home to the University of Michigan, Eastern Michigan University, Concordia College, Domino's Pizza, Google, and many other significant businesses. In the 1980's, with the addition of an Ann Arbor location, the company grew dramatically and Norton's became one of the first floral companies in the country to computerize nearly every aspect of their operation. In 1998, with the retirement of Austin & Dennis Norton, responsibility for the successful flower & gift operation was turned over to their General Manager, Tim Galea, who purchased the chain and guided it for 25 years. In 2023, the company was purchased by Tom Stimpson, Cat Jensen, and Carol Stimpson, a lifelong Ann Arbor family who has worked at Norton's for 18 years. They are excited to continue this 132-year legacy, serve our community, and remain committed to running Norton's Flowers & Gifts in the same customer-friendly tradition our customers have come to expect.
With all the choices you have on the internet, why shop Norton's Flowers & Gifts for flowers today? Before you decide, Norton's wants you to know there is a difference between real, brick-and-mortar, neighborhood flower shops and those internet clearing houses where the operators wouldn't know a tulip from a rose. Well, at Norton's, we sell roses and tulips! At Norton's, we sell flowers & plants. At Norton's, we actually deliver flowers and plants in Ypsilanti. We deliver flowers and plants in Ann Arbor. We even deliver flowers and plants to most of Washtenaw County. Don't be fooled by folksy-sounding shop names and advertisements that claim they deliver in your neighborhood. If you want to be sure, check their website or ask them for their store address and local phone number. If you cannot find obvious evidence they have a real flower shop, you are about to spend your hard-earned money with an internet or telemarketing order processor who doesn't have a clue about flowers, much less the feelings you want to convey with your floral gift. Use your choice to buy smart! Order online, safely and securely from your local, honest and hard-working, professional florist with a lifetime of experience, and have them delivered conveniently to those you love. That's actually what Norton's Flowers & Gifts. We Deliver the WOW!
Norton's Flowers & Gifts is loyal to our communities and proud to be active in local organizations and worthwhile charitable efforts. That's one reason why, for decades, Norton's has enjoyed a respected position as Washtenaw County's premier floral and gift retailer and one of the Top 100 florists in the United States. Additionally, our dynamic ownership team has combined experience at Norton's and in the flower industry of more than 100 years, which is one more reason people choose Norton's for a special birthday, anniversary, get well or graduation gift. We have the size, experience and resources to deliver what the others can't. The Norton's group operates two flower, card and gift shops in Ann Arbor and Ypsilanti while our fleet of bright "We Deliver the WOW!" delivery vans criss-cross Washtenaw County, delivering smiles on a daily basis. Our professional delivery team is always close to the University of Michigan Hospital and St. Joseph Mercy Hospital, and for sympathy occasions we deliver to nearby Stark Funeral Services, Moore Memorial Chapel, Janowiak Funeral Home, C&H Community Home for Funerals, Nie Family Funeral Home and Muehlig Funeral Chapel. Additionally, Norton's long-time affiliation with a preferred network of outstanding Teleflora florists enables delivery to most cities across the United States or around the world, backed by Norton's reputation and guarantee
We invite you to discover the WOW! for yourself. On a visit to either of Norton's Flowers & Gifts locations, you will find unique and beautiful items from around the world to fit your special occasion or everyday gift-giving needs. We have romantic gifts and gifts for new babies. You'll find corporate gifts, housewarming gifts and even great gift ideas for men. But even more fun, at Norton's Flowers & Gifts, you'll probably find some personal or decorative home accessories to keep for yourself. From body and bath products to candles, crystal and chocolates; from lamps and picture frames to cards, books and gift wrap. Norton's just always seems to have the perfect gift you'd never expect to find. We have contemporary jewelry, scarves, purses, and perfume bottles, as well as trendy tableware and quirky stationery products. If you're searching for inspiration, we've got religious and sentimental plaques, tapestries, books, scrolls and the best selection of African-American Cards, gifts and collectibles in town.
An e-commerce pioneer, Norton's was one of the first florists in the country to establish a website designed to accept secure, online orders from local and worldwide cyber community users. Whether you're ordering flowers for a client at work down the street, or your grandma halfway across the country, Norton's Flowers & Gifts is your most reliable floral gift expert. You can order online safely and securely, so order your flowers today and have them delivered conveniently to someone you love or care for. That's right…we'll deliver flowers today! Same day delivery is just one more way to show we are committed to serving our online clients with the same enthusiasm, timeliness and professionalism that has marked Norton's Flowers & Gifts as a customer-friendly, service oriented business for generations. We have a century-long reputation to uphold, so we're going to make sure you are more than satisfied. We want to WOW! you. Please feel welcome to order right now online or call our locsl number (734-434-2700) to speak personally with a helpful gift expert.
Store Hours
Ypsilanti Store: 8am-5pm (Closed Sundays)
Ann Arbor Store: 9am-5pm (Closed Sundays)
****************************************
Norton's Flowers & Gifts Ypsilanti store is open six days a week. Our business hours are 8:00am to 5:00pm everyday but Sunday. Please see the table below for business hours at our Ann Arbor store.
Ypsilanti Store in Fountain Square Plaza
2900 Washtenaw Ave., Ypsilanti, MI 48197
800-682-8667 * 734-434-2700
8:00am - 5:00pm (Mon-Sat)
Ann Arbor Store at SE Corner Stadium & Jackson
2558 West Stadium, Ann Arbor, MI 48103
734-769-9100
9:00am – 5:00pm (Mon-Sat)
Closed Sunday
We will always do our best to accommodate any request at any time, and Norton's Flowers & Gifts is always your best chance to get a last-minute delivery in Ypsilanti or Ann Arbor. But to help ensure on-time delivery during the busy holiday season, please place your local order at least 24 hours prior to the following floral holidays: Thanksgiving Day, Christmas Day, New Year's Day, Valentine's Day, Easter, Administrative Professionals Week, Mother's Day, and Sweetest Day. Orders for delivery in cities outside our local delivery area should be placed at least 2 days before the holiday to allow for the potential variables in those cities.
Norton's Flowers & Gifts remains open for extended hours on most floral holidays. Please call to confirm specific times.
Our stores will be closed on the day of the following holidays: Thanksgiving Day, Christmas Day, New Year's Day, Memorial Day, Independence Day and Labor Day.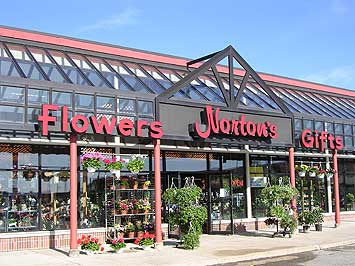 100% Guarantee

Our commitment to you is 100% satisfaction on all your floral and gift purchases. If you are not completely satisfied, let us know by calling (800)682-8667.
Payment Options
We accept the following payment methods:
Visa
MasterCard
Discover/NOVUS
American Express
Contact Information
If you have any questions or need more information, please contact us by email at [email protected] or call us directly at (800)682-8667. We're committed to serving you and making your gift-giving experience a pleasure.
Norton's Flowers & Gifts
Ypsilanti Store / Corporate Hdqtrs
2900 Washtenaw Ave., Ypsilanti, MI 48197
(800) 682-8667 * (734) 434-2700
Norton's-Chelsea Flower Shop
Ann Arbor Store
2558 West Stadium, Ann Arbor, MI 48103
(734) 769-9100
Products & Services
Norton's Flowers & Gifts and Norton's-Chelsea Flower Shop is, above all else, a premier, full-service, retail florist. Our primary business is designing and delivering flowers that help you maximize the impact of your emotions. We know there are many times, however, when you want something other than flowers, and of course, we are fully prepared to meet your needs.
Norton's Flowers & Gifts two conveniently located stores are stocked with an eclectic array of giftware, personal accessories and greeting cards you wouldn't expect to find in most flower shops. Our Ypsilanti showroom is almost 15,000 square feet and the cozier Ann Arbor store is another 1,000 square feet, so there's room for a lot of expressive gifting opportunities. You'll find a comprehensive list of our gift lines below, but in general, you can be pretty sure of finding something for everyone…even you.
We have tens of thousands of greeting cards from Recycled, RSVP, Freedom, Paramount, Blue Mountain Arts, and African American Expressions, as well as wrapping paper and festive gift bags to make any gift presentation memorable. We have baby gifts and the softest stuffed animal toys imaginable. For an inspirational or religious gift that sends the perfect, emotional message, you have to see our pieces from Heartsteps, Books of Love and African American Expressions! Customers call and visit from all over to shop our fragrances department. Norton's proudly sells dozens of colors, scents and styles from Votivo & Bridgewater Candles and Northern Lights, three of America's trendiest candle companies. If you want the finest African-American gifts, greeting cards and collectibles from African-American Expressions, Norton's is the place to start your shopping. Everyone's always complaining how hard it is to buy for a man, but you won't hear that at Norton's. We have a huge variety of green plants, the popular forged iron Tavern Puzzles, and much more. These are just a few of the exciting selections you find at Norton's Flowers & Gifts, Ann Arbor and Ypsilanti's one-stop shopping paradise.
Below, you will find many of our floral products, services, and gift lines cataloged for your convenience. Since very few of our giftware selections have been coded for sale on the website, please visit us to select your gifts or call our toll-free number (1-800-682-8667) to speak with a thoughtful gift counselor who can help you choose exactly the right gift for delivery.
Large inventory of Fresh Flowers
Tropicals
Sympathy & Funeral Designs
Plants (Green & Blooming)
European/Basket Gardens
Contemporary and Traditional Arrangements
High-style Exotic/Tropical Floral Designs
Weddings, Corsages, Boutonnieres
Greeting Cards
Recycled
RSVP
Paramount
Blue Mountain Arts
African-American Expressions
Pet Sympathy Cards
Gift Wrap & Gift Bags
Fragrances
Votivo Candles
Bridgewater Candles
Plush
Gund
Melissa & Doug
First & Main
African-American Expressions
Religious & Inspirational
Heartsteps
African-American Expressions
Specialty Gift Lines
Angel Star
African American Expressions
Jewelry
Pashmina Scarves
Thoughtful Little Angel Pins
Alexx – Key Finders
U of M Licensed Merchandise
Areas Served
The following communities are within our local delivery radius. That means almost all the products and arrangements you request are designed in our own production facilities and we deliver the flowers, plants, fruit baskets, balloons and stuffed toys to Ann Arbor, Ypsilanti, Saline and Dexter, Belleville, Canton and Milan.
We also serve communities outside of our local delivery area through our preferred network of top-level Teleflora and FTD florists, and your order is even backed by the reputation of Norton's own guarantee.
We also deliver to the following facilities.
Anna Botsford Bach Home
Arbor Medical Group
Brecon Village
C & H Community Home-Funerals
Canton Medical Ctr
Chelsea Community Hospital
Crystal Creek Assisted Living
Evangelical Home-Saline
Gilbert Residence
Glacier Hills Retire/Comm-Sale
Health Care Innovations
Hillside Terrace Retirement
Hosmer-Muehlig Funeral Chapel
Huron Valley Mens Institution
L J Griffin Funeral Home
Mc Cabe Funeral Home
Mi Heart & Vascular Institute
Neely-Turowski Funeral Home
Nie Funeral Home Inc
Oakwood Healthcare Ctr
Parkwood Manor
Reichert Health Ctr
Robison - Bahnmiller
Saline Community Hospital
Select Specialty Hospital
St Joseph Mercy Behavioral Svc
St Joseph Mercy Hospital
Stark Funeral Svc Memorial Inc
Sunrise Of Ann Arbor Asst Lvg
Towne Centre Place
University Living
University-Mi Health Systems
Vascular & Interventional Div
Veterans Hospital
Waltonwood Of Canton Assist
Washtenaw Medical Arts Bldg Arbor Care
Bortz Health Care Of Ypsilanti
Brookhaven Manor Retirement
Canterbury Mews Cooperative
Center For Behavior & Medicine
Columbia Court
David C Brown Funeral Home
Fairview Pines Inc
Glacier Hills Nursing Ctr
Glastonbury Adult Foster Care
Heartland Health Care Ctr
Holden Perinatal Hospital
Hospital Health Svc Credit
Janowiak Funeral Home Inc
Lurie Terrace
Meadowood Townhomes
Muehlig Funeral Chapel Inc
Neighborhood Health Clinic
Oakwood Health Care Ctr
Oakwood Occupational Health
Pawlus Funeral Homes
Riverview Outpatient Psych
Royal Holiday Park
Saline Memorial Corp
St Joseph Clinical Laboratory
St Joseph Mercy Health Stop
St Joseph Mercy Maple Hlth Bld
Sunrise Assisted Living
Superior Woods Inc
University Hospital Pediatric
University Of Michigan
Us Veterans Medical Ctr
Vet Affairs Med Ctr
Village At St Joseph Hospital
Waltonwoods At Cherry Hill
Willow Creek Assisted Living
Substitution Policy
Occasionally, substitutions may be necessary to create your bouquet due to the availability of certain flowers in various parts of the country. Care is taken to maintain the style, theme and color scheme of the arrangement, using flowers of equal value. Additionally, the substitution of certain keepsake items may be necessary due to increased demand, especially during major holidays. In single-flower arrangements, such as an all rose bouquet, or orchids, we will make every attempt to match the flower type, but may substitute with another color.
Professional Affiliations
Teleflora
Norton's Flowers & Gifts first joined this worldwide network of retail florists in 1970 and has been consistently ranked in the TOP 100 members since 2001. Teleflora is a network of about 20,000 florists worldwide with access to delivery of floral arrangements and non-floral gift items throughout the U.S. and around the world.
The Midwest Group - www.floristsacrossamerica.com
Norton's Flowers & Gifts was a founding member of The Midwest Group in 1994. The Midwest Group is a floral industry trade association consisting of 16 leading florists nationwide. Members meet regularly to share information, ideas, and best practices for the floral industry, with a focus on improving customer service, floral product offerings, and maintaining the high ethical standards expected of our industry members. Together the group represents over 1,000 years of floral industry experience, putting smiles on our client's faces and helping customers in times of need.
SAF - Society of American Florists
The Society of American Florists is the association that provides marketing, government advocacy, industry intelligence and best practices information for all participants in the U.S. floral industry.
The Society of American Florists (SAF) is the only national trade association that represents all segments of the U.S. floral industry. Our 15,000 members are the industry's top retailers, growers, wholesalers, importers, manufacturers, suppliers, educators, students and allied organizations. SAF is the face and voice of a strong, unified floral industry.
Great Lakes Floral Association
The Great Lakes Floral Association (GLFA), founded in 1920, is a full-service trade association representing florists, growers, suppliers, wholesalers, educators and students. Located in Haslett, MI, GLFA provides education and professional partnerships, which help to position the members of GLFA at the forefront of the floral industry. It is the sponsor of the Michigan Certified Florist (MCF) program; creates and hosts The Great Lakes Floral Expo and trade show; conducts educational seminars though out the year at the Professional Education Center located at the association headquarters; partners with local wholesale houses around the state to produce design seminars and product reviews, publishes the award winning Michigan Florist magazine; hosts the MFA web site, and interacts with state / federal government agencies.
Ann Arbor/Ypsilanti Chamber of Commerce – Visit Website
The mission of the Ann Arbor/Ypsilanti Chamber of Commerce is to support our members by promoting commerce in the greater Ann Arbor area through business advocacy and leadership in economic, political and educational development.
Ann Arbor Area Convention & Visitors Bureau – Visit Website
Whether your visit is collegiate, leisure or business, feel the energy of a town rich in culture and full of life. Begin your Ann Arbor area experience by clicking on website link.
Steve Pepple Photography – Visit Website
We are proud to recommend Steve Pepple Photography to our customers who are looking for a premier, local wedding photographer. We have a long history with Steve and can attest to his professional ethics, dependability and fair rates. Samples of his stunningly artistic work can be viewed on his website or you can simply call for a package that is customized to your budget and needs.
Nie Family Funeral Homes and Cremation Services – Visit Website
As the Nie Family Funeral Home tradition continues into its third generation, their mission of "Our Family Serving Your Family" also continues with the additional mindset that "We don't personalize a funeral service…We make it Personal".
Stark Funeral Service – Visit Website
With a tradition of service that goes back more than 110 years, their staff is dedicated to helping families not only cope with loss, but plan for a service that is truly a tribute to the life of their loved one.
Ann Arbor Marriott Ypsilanti at Eagle Crest – Visit Website
When getting married or staying in Ypsilanti, enjoy the beautiful resort atmosphere of our community's only lakeside hotel. With a championship golf course, stunning views and the largest banquet facilities in our area, The Marriott is a premier facility.
Kensington Court Ann Arbor – Visit Website
Kensington Court Ann Arbor has everything today's business and casual travelers could possibly hope for in a full-service hotel. "We exceed. You succeed." More than just the hotel's slogan, this is their philosophy and commitment to every guest.
The Moveable Feast Catering – Visit Website
Creating food art for any occasion; Specializing in mobile catering; No cost consultations; Courteous professional staff; Specialists in events over 500 guests; Tailgates to Extravagant receptions; Bartending services
Mesothelioma Community Resource Network
Nortonsflowers.com is pleased to work with the Mesothelioma Community Resource Network, a compilation of resources dedicated to increasing the mesothelioma survival rate. For more information on peritoneal mesothelioma, visit the Mesothelioma Cancer Alliance.